Total de visualizações de página
sexta-feira, 4 de novembro de 2011
By Miguel Helft and Jessi Hempel
@FortuneMagazine
November 3, 2011: 5:53 AM ET
This shift to a more social web changes everything for businesses and consumers alike. Among the first industries to be rocked: advertising. Google may capture 41% of today's $31 billion U.S. online advertising market, including the lion's share of the search-ad market. But growth in search advertising is slowing, and advertisers are putting more of their limited dollars into Facebook, with its 800 million users, many of whom spend more time on Facebook than on any other site. (See chart at the bottom of the page) Facebook's display-ad revenue is expected to grow 81% this year, while Google's display-ad dollars will rise an estimated 34%. Google and Facebook would have you believe there is room for each to drive forward with unlimited success, but don't be fooled. As Stifel Nicolaus analyst Jordan Rohan explains, "It's highly unlikely that either Google or Facebook could grow by the billions that investors expect in the display market without engaging directly and stealing market share from the other."
So while most of us spend our days casually toggling back and forth between our Gmail accounts and our Facebook newsfeeds, down in the heart of the San Francisco Peninsula it's war. Zuckerberg served free food this summer to willing workers on the weekends. Page is pushing his team to add features to Google+ at a furious pace: more than 100 in the first 90 days. The decisions that are being made right now -- product launches, advertising plays -- will determine which company prevails.
The Buzz fiasco was a wake-up call at Google. Some of its most high-profile engineers started making the case that the social web posed a vital threat to Google. As the web was being rebuilt around people -- and, in particular, around Facebook's graph of human relationships -- Google could end up on the sidelines, its relevance eroding by the day. The message rattled Google's top brass, and an ambitious project -- called Emerald Sea -- not only to create a credible rival to Facebook but also to transform Google's existing products around social media, quickly took shape. (Gundotra picked the name Emerald Sea to suggest both new horizons and stormy waters.)
After more than a year of gestation, Google finally introduced Google+ in June. The result? A social network that cloned much of what people like about Facebook and eliminated much of what they hate about Facebook. You'll find familiar home and profile pages, tabs for photos and games, and of course the endless updates from friends. Google's +1 button works much like Facebook's Like. But where Facebook is perpetually accused of running roughshod over people's privacy preferences, Google+ made it very easy to decide who can see what users post on the site. Facebook lacked a good way to separate workmates from classmates from real friends, so Google+ was built around Circles, an intuitive way to group people in buckets. Facebook takes 30% of the revenue that app developers like Zynga make on its platform, so Google+ said it would take only 5% for now. Since the launch, Google has rolled out more than 100 new features, and Page says there is much more to come. In Silicon Valley, where everyone had given up on the idea that Google could compete with Facebook, Google+ caught everyone -- including Facebook loyalists -- by surprise. "Google+ was impressive," says Joe Green, one of Zuckerberg's Harvard roommates and the founder of Causes, an application built to run on Facebook.
Until recently, the most popular person on Google+, with 598,000 followers and counting, was Mark Zuckerberg. But he has yet to make a public post, and indeed he'd prefer not to discuss Google+ at all. When pressed at a July event, he called it only a "validation as to how the next five years are going to play out." (Translation: Uh, they're copying us.)
However, inside the Palo Alto office where more than 750 engineers regularly pass by the small glass conference room in which Zuckerberg, 27, holds court, Facebook employees put in some serious overtime during the summer lockdown. This had happened only once before in recent years at Facebook: After word leaked that Google was starting work on a "Facebook killer" in summer 2010, Zuckerberg called on engineers to work nights and weekends for 60 days to revamp key social features like photos, groups, and events. Just as it did then, the cafeteria opened up on evenings and weekends this summer, and children dropped in for dinners and good-night hugs before their parents logged back on for late nights. By September, Facebook had released a slew of new features like better grouping tools to mirror those Google+ circles. Says one member of the product and engineering team: "[Google] can throw all the money in the world, including hundreds of people, at this. So people were, like, This is serious, and we should take it seriously."
One day in late October, tech blogs started buzzing about the latest bit of news on the social web: Zuckerberg had lost his place as the most followed Google+ user. Who edged him out? None other than Larry Page. Trivial, perhaps, but it's hard not to think that the news lit up smiles across the Googleplex. Neither Google nor Facebook likes to talk about competing with each other (and neither company would make their CEOs available for this story), but battles are raging on multiple fronts, and both sides celebrate even the smallest victory.
These numbers, however, don't tell the full story of a battle that began as far back as 2007 and has only intensified since. Facebook's weapons of choice? Its cachet as the hottest Valley company -- and its potential to mint millionaires when it finally goes public. Google has fought back with money, lots of it. In some cases Google offered top engineers or execs more than $10 million in equity and cash if they stayed, said an executive directly involved in the talent wars. Word spread quickly, and many Googlers did what rational people would do: They got an offer from Facebook just so they could get a big raise at Google. "It created an un-Googley environment," says a senior manager who left Google recently. "They like to be merit-based." So in January, Google tried a different approach: It lavished a giant 10% raise on its entire workforce. It also shifted a large chunk of employee bonuses into base pay. As a result, many people saw their paychecks increase by 15% or even 20%.
We know what you're probably thinking: If this is a war, who's going to win? The answer is not straightforward. Google has two goals with social media: One is to slow the momentum of Facebook; the other is to use data from Google+ to improve things like search, maps, and ads. Both Gundotra and Page say the latter goal is the more important one. "We can make search better," Gundotra says. "We can make YouTube and Gmail better. We can make our ads more relevant." He later adds: "Google+ will touch every aspect of Google."
For Facebook, the early successes of Google+ mean Zuckerberg can no longer afford to screw up. In the past, Facebook's frequent product missteps and privacy snafus were by and large forgiven or forgotten. From now on, Google+ will stand at the ready, more than happy to welcome any disgruntled Facebook users -- not to mention their friends. In other words, as he soldiers on, Zuckerberg must now keep an eye on Page and his troops. Yes, Zuckerberg may feel good about Facebook's gaping lead in users and about having poached dozens of Google's prized brainiacs. But Page has had no problem replenishing Google's ranks. In the most recent quarter, Google added nearly 2,600 employees. That's almost as many people as work at Facebook, and they have a clear mandate: to turn Google into a superpower of the social web.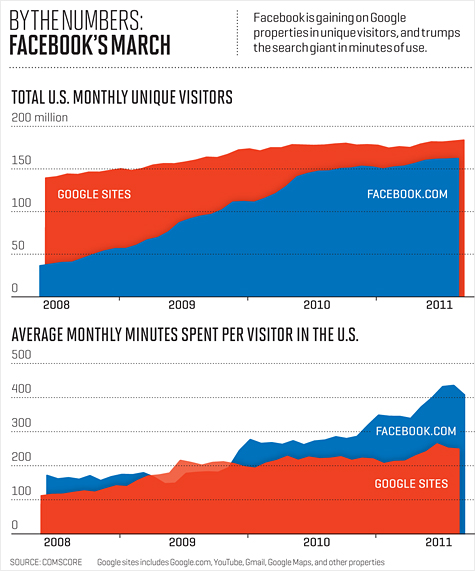 Marcadores: Apple, Business, Empreendedorismo, Estratégia, Facebook, Google, Harvard, Innovation, Inovação, Management, Marketing, MMA, Tecnologia, Tendência, Twitter, Videos